Magna Doodle Drawing Toy
Classic Art Toy.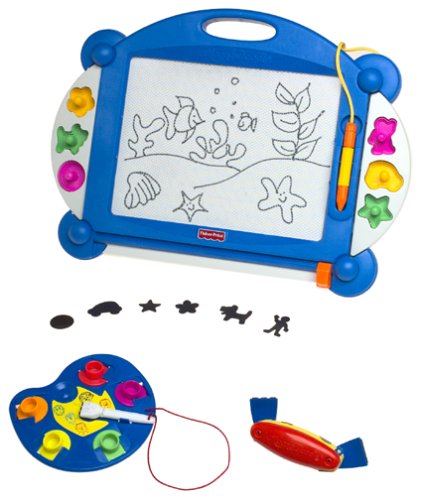 The Magna Doodle is a learning-fun classic and comes with a carry handle to go everywhere. The set includes six magnetic-shape stampers (flower, dog, circle, person, car, and star) and an attached fine-line pen. Kids can draw to their heart's delight on the high-contrast magnetic board, and when they're all done, they just slide the magic eraser bar to clear the screen. All the parts and pieces snap into the frame to form a personal doodling briefcase. Included accessories feature the Face Doodler that allows kids to draw a multitude of different faces and expressions, and the Doodle Tool which features numerous ways to make different shapes. This classic art tool now comes in a new streamlined design that highlights the 11-by-8-inch screen in an attractively rounded blue frame with custom-molded places for the enclosed magnetic stamps. It's a simple but ingenious toy. Just use the attached magnetic pen to write messages, draw pictures, or play games on the Magna Doodle's screen. (A light touch is all that's needed to create strong black lines on its surface--too much pressure can leave permanent marks.) You can also use the six stampers (shapes include flowers, stars, circles, and even dogs and people) to create instant patterns. But here comes the cool part: grab the orange bar at the bottom of the screen, give it a couple of pulls, and the screen is immediately erased! While Magna Doodle is a great vehicle to stir up a kid's imagination, it can also be used practically as a message board at home.
The Magna Doodle drawing toy taps into a child's innate desire for creative expression in a fun, mess-free way. With its magnetic pen, young artists can effortlessly draw faces, shapes, and whatever else their imaginations conjure up, without the need for ink, paint, or crayons. The drawing surface serves as both a canvas and an instant eraser, providing a magical, ever-changing space to explore their artistic instincts. The magnetic pen adds an element of tactile pleasure, as kids feel the slight pull against the drawing board, giving them a unique sense of control and interaction. It's not just about drawing; it's also about experimenting with how lines and shapes can be manipulated using magnetism. This makes the Magna Doodle not only a toy but also a fascinating tool for understanding basic scientific principles. Because it's so portable and easy to use, it becomes an ideal companion for long car rides, restaurant waits, or any situation where a quick, engaging activity is needed. Offering endless possibilities for creativity and discovery, the Magna Doodle is more than just a drawing toy—it's a platform for imagination, learning, and endless fun.