Magnet Set Science Toy
Magnetic construction set.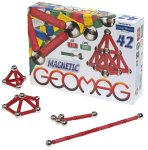 Geomag makes your ideas click. Create unlimited shapes by connecting the Geomag spheres and rods in virtually any combination. The Geomag magnets are so strong that each structure is solid, yet the sphere and rods can be pulled apart without effort. Create: Buildings and structures, mathematical shapes, physics models, chemistry models, geometric shapes, jewelry you can wear, refrigerator art you can change everyday, and spinning tops! Theres no limit to your creativity! These powerful magnetic construction sets provide hours of building fun.
Geomag Magnet Kit: A Gateway to Geometric Creativity
The Geomag magnet kit is a versatile and engaging toy that allows children to explore geometric shapes and models through magnetic spheres and connecting rods. Here's how this innovative kit fosters creativity and learning:
Exploration of Geometry: By connecting spheres and rods, children can create a wide variety of geometric shapes and structures. This hands-on experience helps them understand geometric principles in a fun and interactive way.
Enhancing Spatial Skills: Building with Geomag encourages children to think spatially, visualizing how shapes fit together and how they can be transformed. These skills are essential for mathematical understanding and problem-solving.
Creativity and Imagination: With endless possibilities for construction, Geomag allows children to express their creativity by designing unique structures and models. Whether replicating real-world objects or inventing new creations, the kit inspires imaginative play.
Collaboration and Communication: Working with Geomag can be a collaborative effort, encouraging children to work together, share ideas, and communicate effectively. These social skills are valuable both in the classroom and in everyday life.
Understanding Magnetism: The magnetic nature of the Geomag kit introduces children to the concept of magnetism. They can explore how magnets attract and repel, gaining a basic understanding of physics in an engaging and tactile way.
Fine Motor Skills Development: Handling the small spheres and rods requires precision and control, helping children develop their fine motor skills. This can enhance their coordination and dexterity.
Integration with STEM Education: Geomag's focus on geometry, physics, and engineering aligns with STEM (Science, Technology, Engineering, Mathematics) education goals. It can be a valuable tool in both formal and informal educational settings.
Adaptability to Different Ages: The Geomag kit can be adapted to suit different age groups and skill levels. Younger children can create simple shapes, while older children can explore more complex constructions, ensuring long-term engagement and learning.
The Geomag magnet kit is more than just a toy; it's an educational tool that fosters creativity, critical thinking, collaboration, and a love for geometry and science. By allowing children to experiment with geometric shapes and models, it opens doors to a world of discovery and innovation.