Magnet Set Science Toy
Magnetic construction set.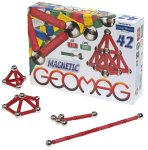 Geomag makes your ideas click. Create unlimited shapes by connecting the Geomag spheres and rods in virtually any combination. The Geomag magnets are so strong that each structure is solid, yet the sphere and rods can be pulled apart without effort. Create: Buildings and structures, mathematical shapes, physics models, chemistry models, geometric shapes, jewelry you can wear, refrigerator art you can change everyday, and spinning tops! Theres no limit to your creativity! These powerful magnetic construction sets provide hours of building fun.