Magnetic Blocks
Puzzle construction toy based on mathematics and scientific principles of organization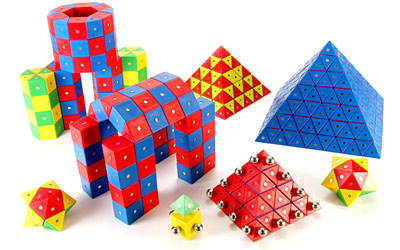 Geometix has signed an exclusive distribution deal with Geospace for the MagneBlocks line of toys.
Warren Scott Fentress, founder of Geometix International and inventor of Magne Blocks, commented: "MagneBlocks are the next generation of magnetic construction toys. It's a more versatile system than the popular 'stick and ball' magnet sets, and the systems work together. There's also a puzzle component, something the stick and ball sets don't have. The toy is based on sacred geometry and Synergetics, which is the mathematics of how nature organizes itself." Fentress added: "MagneBlocks are a great cross-generational toy that subconsciously teaches mathematical and physical principles in a fun, engaging and fascinating way. Imagine Lego meets Rubik's Cube and you've got a great alternative to video games."
Dennis Binkley, President of Geospace International noted: "MagneBlocks are a natural extension of what we do and we are very excited to carry this breakthrough toy. MagneBlocks blends well within our portfolio of educational toy products." Geospace, a distributor and developer of breakthrough toys for the past decade, is launching Magniblocks with a series of packaged collection styles plus two large sets with carrying cases.
The toy set swill cost between $7.99 and $99.99 and will be available at FAO Schwarz stores and online at MagneBlocks.