Magnetic Fishing Game
Game to improve hand-eye coordination.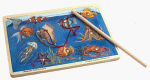 Kids will develop their dexterity, improve hand-eye coordination, visual perception and fine motor skills while catching magnetic fish puzzle pieces. This Magnetic Fishing Game includes a magnetic fishing pole for catching a variety of fish puzzle pieces. The board has 10 removable pieces. A plywood puzzle with a difference: the idea is to get the pieces out after you put them in. The 11.75-inch by 8.50-inch aquatic scene (mainly in blues, oranges, and browns) includes such pieces as a sea horse, various fish, a crab, and a starfish. Though the pieces are wood, each has a metal button in the middle; attach a magnet to a line and practice fishing them out before reconstructing the puzzle. (For an especially interesting challenge, try fishing them back in.)
The Magnetic Fishing Game combines the excitement of a fishing adventure with the benefits of a puzzle, making it an irresistibly fun and educational activity for children. With its magnetic fishing pole and a pond full of colorful fish puzzle pieces, kids get to experience the thrill of the "catch" without ever leaving home. The magnetic tip of the fishing pole snaps onto the metallic part of the fish pieces, providing that satisfying feeling of having made a catch. This simple yet delightful interaction engages kids both physically and mentally, enhancing their hand-eye coordination, focus, and fine motor skills. The variety of fish types can also serve as a learning tool, introducing children to different species of fish or even basic counting and colors. Because each fish piece typically fits into a specific spot in the 'pond' or game board, it also has a puzzle-solving aspect that challenges kids' spatial reasoning abilities. The game can be enjoyed solo or turned into a friendly competition, making it a versatile option for both individual and social play. With its blend of action, learning, and skill-building, the Magnetic Fishing Game reels in children's attention and keeps them entertained for hours.