Make Me Pretty Barbie
Can you comb my hair? She talks to you. Make Pretty Talking Barbie Styling Head.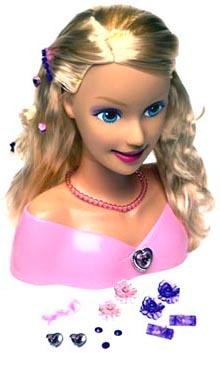 When girls press her heart-shaped jewel pin, Barbie doll says one of 12 phrases. Phrases include Let's put on my crown and Can you put on my eye shadow? Comes with fun color-change makeup and over 20 accessory pieces that girls can use on the styling head or wear themselves. Big and beautiful, this Barbie styling head has more going for her than her predecessor from the '70s. Not only can her luxurious blonde hair be styled with several tools (comb, brush, pins, tiara, clasps, bows, even a wedding veil), she has more hair than ever. A handful of pink jewelry is on hand, and girls can even give Barbie a makeover. Dip the included sponge applicator into cold water and apply it to Barbie's lips, cheeks, and eyelids for a flourish of glamorous color. Removing the makeup simply requires using the same applicator with warm water. Lastly, a charm on Barbie's blouse allows her to speak when it's pressed. From there, shoptalk between your child and a pleasantly vain Barbie ensues in earnest.
A Barbie styling head offers a captivating platform for budding fashionistas and hairstylists to explore their creativity and hone their skills. Designed to mimic a life-sized Barbie head complete with long, luscious locks, this toy provides a realistic setting for children to practice hairstyles, makeup application, and even accessorizing. From braiding and curling to applying pretend blush or eyeshadow, the opportunities for imaginative play are virtually endless. The tactile experience of working with the hair and using various styling tools engages kids on a sensory level, enhancing their fine motor skills and hand-eye coordination. As they experiment with different looks, children are not just following current beauty trends; they are actively engaging in role-playing, which allows them to envision themselves in various professions and scenarios, be it a hairstylist, makeup artist, or fashion designer. Many Barbie styling heads come with a range of accessories like hair ties, clips, and pretend makeup, adding layers of fun and complexity to the styling process. Ultimately, the appeal of a Barbie styling head lies in its ability to blend creative expression, skill development, and role-playing into one enriching and endlessly entertaining package.