Make Me Pretty Barbie
Can you comb my hair? She talks to you. Make Pretty Talking Barbie Styling Head.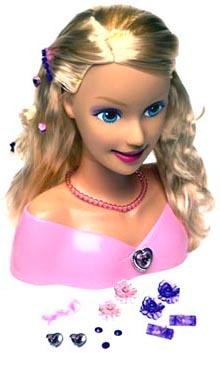 When girls press her heart-shaped jewel pin, Barbie doll says one of 12 phrases. Phrases include Let's put on my crown and Can you put on my eye shadow? Comes with fun color-change makeup and over 20 accessory pieces that girls can use on the styling head or wear themselves. Big and beautiful, this Barbie styling head has more going for her than her predecessor from the '70s. Not only can her luxurious blonde hair be styled with several tools (comb, brush, pins, tiara, clasps, bows, even a wedding veil), she has more hair than ever. A handful of pink jewelry is on hand, and girls can even give Barbie a makeover. Dip the included sponge applicator into cold water and apply it to Barbie's lips, cheeks, and eyelids for a flourish of glamorous color. Removing the makeup simply requires using the same applicator with warm water. Lastly, a charm on Barbie's blouse allows her to speak when it's pressed. From there, shoptalk between your child and a pleasantly vain Barbie ensues in earnest.