Malibu Barbie Doll
1970s California style.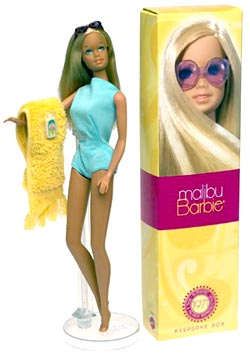 She taught you all about fun in the sun with her cool West Coast attitude. Now the quintessential California girl is back. A wonderful reproduction of the 1971 doll, Malibu Barbie doll is authentically recreated in her aqua blue bathing suit. Yellow towel and sunglasses complete the beach ensemble, updated with an accompanying bottle of protective sunscreen. The best of the seventies style resurfaces as Malibu Barbie returns to the beach for another day in the sun! A playtime favorite and cultural phenomenon for more than 30 years, this reproduction of Malibu Barbie will rekindle sunny memories for the more than 18 million women whose earliest Barbie doll experience was with this quintessential California beach girl. Because nothing can replace the sun-kissed skin, pale blue one-piece swimsuit and long, surfboard-straight blonde locks of the original Malibu Barbie, Mattel has replicated the 1971 original to the last detail with this special collector edition. However, this modern-makeover Malibu girl is skin care savvy in 2002 and comes with her own "faux" sunscreen bottle. "Malibu Barbie was one of the most popular Barbie dolls ever created," said Anne Parducci, senior vice president worldwide marketing, Mattel's Girls Division and Barbie. "Her fame far surpassed playtime, transforming Malibu Barbie into an image that defined the 1970s California look and style. The re-creation of this nostalgic collector doll will allow the more than 67 million women and girls who have played with Barbie doll since her inception, to re-experience this all-time favorite." Sporting a re-creation of the original blue one-piece bathing suit and yellow towel, Malibu Barbie will bring back beach loving memories for women of all ages when displayed in her cool retro package. Reminiscent of the 1971 original, Barbie doll's long, beach-blonde locks are parted to the side in the totally Malibu do. Because she loves to soak up the warm California rays, this modern-day, fun-in-the-sun collectible girl is hip when it comes to sun care - with 70s styled shades and a faux sunscreen bottle.
The mystique of Malibu extends beyond its sun-kissed beaches and world-renowned surf spots, captivating both locals and visitors alike with its unique blend of natural beauty, celebrity allure, and laid-back luxury. Nestled between the rolling Santa Monica Mountains and the Pacific Ocean, Malibu offers an idyllic setting for outdoor activities like hiking, paddleboarding, and, of course, surfing. Its coastline, punctuated by dramatic cliffs and secluded coves, has been immortalized in countless films and songs, further elevating its status as a dreamy escape. Yet, what adds an extra layer of fascination is Malibu's reputation as a playground for the rich and famous. Celebrities, moguls, and artists have long been drawn to its private estates and exclusive communities, infusing the area with a sense of glamour that contrasts intriguingly with its natural simplicity. Even the architecture, from cliff-hugging modernist homes to opulent Mediterranean villas, reflects this juxtaposition of casual elegance and ostentation. Trendy boutiques, gourmet restaurants, and art galleries offer more urbane delights, but it's the breathtaking sunsets and the eternal rhythm of the waves that ultimately define Malibu's enduring appeal. In essence, the mystique of Malibu lies in its ability to be many things to many people, while always remaining quintessentially itself.