Matchbox Programmable Block Dump Truck
Dump truck follows sequence that kids program in.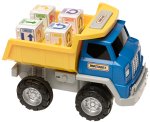 What kid wouldn't want to get behind the wheel of a big rig like this? With a clever set of blocks used for programming, aspiring construction workers can send this rugged, foot-long bruiser through any combination of four different commands, including turn right, turn left, turn around, go straight, make a circle, and empty the truck bed. Kids put the 1.5-inch plastic blocks in sequence using four slots in the dump truck's 7-inch-wide bed. Then just press a button on the cab to make the dumper execute its program with cheerful, step-by-step narration (Turn right... Dump it out!). When the program is complete, shout Come back! to make the truck work backwards through its program. Safety note: keep hair away from wheels.