Matchbox Radio Rescue
Playset with real radio microphone.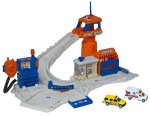 For daredevil children and rescue lovers, this easy-to-assemble playset offers excitement at every turn. As soon as a would-be robber crashes into the side of the bank, breaking it open, kids can get on the horn and call for help. A microphone in the radio allows children to broadcast their voices. And the chase is on! The die-cast police SUV speeds down the incline from the tower above the bank, while the ambulance hurries to the scene from the main road. Two more buttons on top of the radio sound out the bank's alarm and the siren of the police car. Should the robbers attempt to get away, never fear. They'll soon drive over the door of the jailhouse, which then flips up to trap them behind bars.
In the 1960s, Matchbox cars were at the peak of their popularity, competing closely with other brands like Hot Wheels, introduced by American toy maker Mattel. The brand underwent various ownership changes and innovations, including the addition of "Superfast" wheels in the late 1960s to compete with Hot Wheels' speed-centric features. Acquired by Mattel in 1997, the brand continued to thrive, expanding its range to include various themes and collections. Matchbox cars have become more than just toys; they are cultural icons that evoke nostalgia, inspire creativity, and even serve as valuable collector's items. Their lasting impact is a testament to the universal appeal of small-scale, realistic vehicles that allow for endless imaginative play.