Matchbox Super Blast Firetruck
Releases real water balls and comes with a video of firetrucks in action.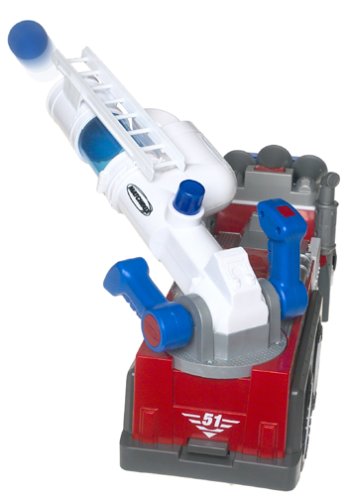 It's Huge. The Super-Blast Fire Truck is the Ultimate Fire Truck with lights, sounds and a water Cannon that shoots real water balls to save the day. As an added bonus, the bottom of the package becomes a target. Almost 2 feet in length, this Super Blast Firetruck has working lights and sirens and shoots soft water balls high into the air (or at the cardboard targets you'll find on the bottom of the packaging). Made of heavy-duty red-and-gray plastic, this six-wheeler looks and feels quite impressive. Using one lever, the water cannon can be aimed at the back of the truck, and the balls are released with another lever. The lights and different sounds are pretty realistic and as fire trucks go, it's topnotch. It also comes with a 20-minute video of real firetrucks in action. Requires three AAA alkaline batteries (included).