Max Steel Action Figures
Max Steel is the ultimate secret agent with cool, high-tech accessories. Each figure is approximately 12 inches high with super articulation and incredible detailing.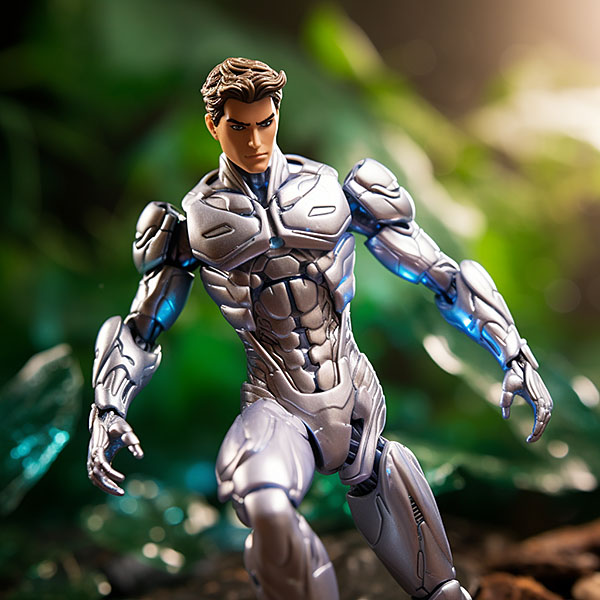 Max Steel, a dynamic multimedia franchise created by Mattel, has captivated audiences with its blend of action, adventure, and science fiction. The story revolves around Max McGrath, a teenager who discovers he possesses incredible energy-based powers when he bonds with an alien named Steel. Together, they become the heroic duo "Max Steel," fighting against evil forces threatening their world. With a combination of high-tech gadgets, teamwork, and courage, Max Steel battles supervillains while navigating the challenges of teenage life.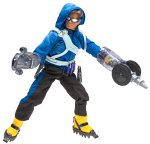 The Max Steel Story: Meet Josh McGrath, college student and extreme sports enthusiast. While visiting his operative father at N-TEK, the super-secret anti-terrorist organization, Josh is accidentally infused with experimental Nano-Tek Max probes, giving him increased speed, strength, reflexes, sight, and hearing. Now, through his secret identity as Max Steel, Josh battles the evil Dread organization and their hopes of world domination.
Max Steel: MX4 Rocket Cycle & Missile Launcher - A bicycle and a missile launcher--Max Steel needs every last bit of help in his epic adventures. The Max Steel MX4 rocket cycle and missile launcher is a 14-inch working mountain bike--suspension and all--that comes with a battle helmet, nonworking laser, a stand to keep it upright, and an N-Tek cable so Max can jack in directly to take control. A little transforming work turns the bike into a launcher with two missiles that can be fired safely by pressing a button.
Max Steel MX250 Moto Blaster Bike - Max Steel is ready to chase down the bad guys with this dirt bike that transforms into a net launcher that fires a spring-loaded net. It's two cool toys in one! Featured on the Max Steel TV show.
Max Steel Mx48 Turbo Car - The Mx48 is just the right kind of high-tech transport for superhero Max Steel, and at 22 inches long it's sized to fit the 11-inch articulated Max Steel figures (sold separately). Although it runs well enough on smooth surfaces, the powerful-looking drop-top doesn't really do much, with no opening doors or hood. All the action is concentrated at the back, where the trunk opens to reveal a spring-loaded twin rocket launcher, complete with missiles. Better still, the launcher comes out and converts into Max's personal jetpack--two speedy transports in one.
Max Steel Aqua Attack Figure and MX7 Wave Skimmer Board
Max Steel Mx-9 N-Tek Cycle is a cool, extreme-styled motorcycle with pop-out weapons, sound and motion features. It features two missile launchers that fire two missiles each, flashing headlight and taillight and free-rolling wheels. The cycle also has four sound effects with a vibrating feature. The cycle holds a max steel figure and comes with a motorcycle helmet
Max Steel Arctic Commando - Superhero Max Steel travels the globe fighting his nemesis, Psycho, who is bent on world domination. But sometimes he gets himself into environments so extreme that even his nanotech superpowers and well-coifed hairdo don't quite cut it--and that's when he needs some serious gear from N-TEK. This fully articulated 12-inch-tall Arctic Commando Max comes with the latest mountaineering equipment from the N-TEK arsenal. Of course, Max has the standard-issue snow pants, hooded parka (dusted with flecks of snow), and rubber boots with removable climbing crampons. But even better are two 5-inch-long handheld gizmos for mountain climbing: an ice drill with twin rotary saws and a rappelling arm with over 50 inches of nylon line. Both snap over Max's arms with a handle inside that Max can turn with his gloved hands. The rubber drill turns as the saws spin, and the rappelling line comes with two rugged 3-inch-long grappling hooks, letting Max glide gracefully between even the most treacherous mountaintops.
Max Steel Night Combat Figure - Mission 4 continues through the night, but that's no problem for Max Steel. He's been fitted with a light-up eye and arm. Clad in a black-and-gray nylon jumpsuit and gray plastic armor, this 12-inch-tall, fully jointed action figure looks awesome. His other accessories include a grappling hook with rope, an oversized backpack, and a headset with a microphone--Psycho beware. Max Steel comes to life with super articulation, light-up features and cool sound effects. Even total darkness can't shield the bad guys when Max Steel wears his high-tech stealth suit. His eye lights up so he can see his enemies. Once he locates his enemies, Max Steel can blast them. Includes over 20 high-tech accessories.