Metallic Bead Pets Backpack Keychains
Use dazzling metallic beads to make 10 cool critters.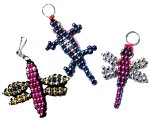 Nowadays key chain charms are seen dangling from backpacks, purses, or belt loops. Once in a while they're even used for their intended purpose--to hold a set of household keys. Wherever children choose to hang them, they'll certainly enjoy making beaded key chain charms with this easy craft kit. The kit has color-coded instructions and enough beads, key rings, and colorful cords to assemble 10 pet charms. It even has a bead tray, which makes locating the different colored beads much easier. Finished metallic bead animals include a giraffe, a fish, a snake, a lizard, an ant, a crab, a duck, and a bear. Some creatures are easier to recognize than others. For example, the centipede is rather amorphous, whereas the dragonfly is distinguishable and dazzling. This is a great kit to give children who want to make their own holiday presents. It's metal-mania! Use dazzling metallic beads to make 10 cool critters that are just too cool. Metallic Bead Pets add "zip" to anything with a zipper and are as fun to make a they are to wear.
A craft kit for making metallic beaded key chain charms offers an engaging and rewarding creative experience for individuals of all ages. Equipped with a variety of metallic beads, clasps, and key rings, this kit provides all the components needed to create personalized, sparkling accessories. The process of selecting bead colors, arranging patterns, and threading the key chain engages fine motor skills and offers a sense of artistic freedom. Moreover, the metallic finish on the beads adds a glamorous touch, making the final product something truly special to flaunt or gift. The very act of creation provides a sense of accomplishment and the end result—a customized key chain charm—is both a functional and beautiful item that adds a personal flair to bags, keys, or other accessories. Whether crafting alone for some meditative time or making it a social activity among friends or family, a metallic beaded key chain charm kit offers a delightful blend of hands-on creativity and stylish expression.