Metallic Bead Pets Backpack Keychains
Use dazzling metallic beads to make 10 cool critters.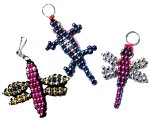 Nowadays key chain charms are seen dangling from backpacks, purses, or belt loops. Once in a while they're even used for their intended purpose--to hold a set of household keys. Wherever children choose to hang them, they'll certainly enjoy making beaded key chain charms with this easy craft kit. The kit has color-coded instructions and enough beads, key rings, and colorful cords to assemble 10 pet charms. It even has a bead tray, which makes locating the different colored beads much easier. Finished metallic bead animals include a giraffe, a fish, a snake, a lizard, an ant, a crab, a duck, and a bear. Some creatures are easier to recognize than others. For example, the centipede is rather amorphous, whereas the dragonfly is distinguishable and dazzling. This is a great kit to give children who want to make their own holiday presents. It's metal-mania! Use dazzling metallic beads to make 10 cool critters that are just too cool. Metallic Bead Pets add "zip" to anything with a zipper and are as fun to make a they are to wear.