Micropets Series 1 and 2
Micropets Become Hot Collectibles - Tomy Corporation Announced An Immediate Cease-Production on the Hottest Collectible Toy Trend This Year To Make Room For Series 2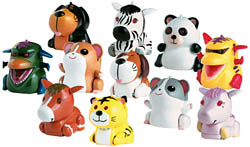 MicroPets are just under two inch tall Robot Pets that you can give instructions with your own voice. They respond to and are great companions for kids of any age, from 5 to 95. But they're even more fun as a group. MicroPets work together and play together, responding to each other's voices, singing, playing, even getting upset when they're left out. Collect all 10 of them. Voice response system. Up to 18 different commands and functions. ears and front paws move up and down. MicroPets love to sing for you. Three different personality moods. Collect all 10, they play, sing and interact with each other.
If the red-hot MicroPets are on your kids holiday hit list, you'd better get them now. Award-winning MicroPets, a top pick on many upcoming 'Hot Holiday Toy' lists, is about to make history -- by becoming history. Tomy Corporation today announced that they have abruptly ceased production on their original character line of their super-selling toy phenomenon, MicroPets, the world's smallest collectible interactive pets, to gear up for immediate production of a second series.
The unexpected Series II MicroPets, which will include all new characters and genres of the pint-sized pals that stand only an inch and a half tall and fit into the palm of your hand, are rumored to be available at Toys 'R' Us stores as early as this December. Therefore, Series I MicroPets, which are already a hard-to-find collectors' item, will become nearly impossible to get as availability is now limited to what is currently on store shelves and possibly in stock at retailers.
'MicroPets have become a hugely popular item among kids and adults alike in a very short time, with several of the ten original characters selling out of major retailers worldwide since they hit stores in August,' said Lon Ross, Vice President of Marketing for Tomy Corporation. 'We've been bombarded with requests from fans for more MicroPets, so we're giving the people what they want by creating a Series II,' continued Ross. 'Unfortunately, that means we must immediately stop production of our original line to make room to manufacture the new characters that will expand the MicroPets brand. Fans won't be disappointed.'
Tomy Corporation, a global leader in the toy industry and the toy creators of the worldwide phenomenon, Pokemon, has also said that the master mold for the two 'Bush Monster' characters, Bob and Kuda, have been 'destroyed', therefore the character line will never be made again in any other form or in any of the upcoming Series. Based on precedent set by past toy craze trendsetters like the Beanie Babies and Tamagotchi, toy experts predict that the 'retirements' of these two characters will cause them to be the first cached by collectors, and quickly become the hardest to find.
MicroPets were launched in 2002 at a spectacular launch event at the Toys 'R' Us Times Square store with the help of celebrity Verne Troyer, best known as Dr. Evil's sidekick in the popular Austin Powers flicks. Facts About Series I MicroPets - A Collectors Guide: The original MicroPets collection includes dogs, cats, bears, bush monsters, and mountain monsters -- all of which come from a mystery island in Micronesia. Each has their own unique quirks, characteristics and personality, derived from their habitats on the island. Series I includes two of each breed, which are indigenous to a specific area of the island, and is reflected in their personality and living environment: Dogs - Moshi and Siren Cats - Coco and Chumsley Bears - Kuma and Bongo Bush Monsters - Bob and Kuda Mountain Monsters - Sumo and Yuk.