Mini Nerf Football, Soccer Ball, Basketball
Nerf Mini-Balls.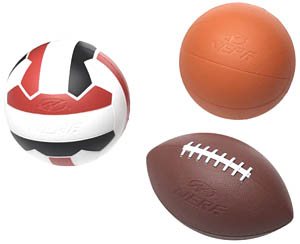 The Nerf Mini Sports Multipack Set offers an all-in -one sports set! Includes classic Nerf mini football, basketball, and soccerball. Great for picnics and parties. Can a household with kids ever have too many Nerf balls? This set of three lightweight Nerf balls includes a football, a soccer ball, and a basketball, each about 5 inches in diameter. Stash this set in the back of the van to take to the park or to Grandma's house, so the kids can go outside and play ball. This set would also make a great, one-size-fits-all birthday party gift to have on hand.
The Nerf line of sports balls, a staple in recreational play for both children and adults, has enjoyed immense success since its introduction in the late 1960s. Originally starting as a foam-based indoor ball, Nerf sports balls transformed the dynamics of play by offering a safer, softer alternative to traditional sports balls, making them perfect for indoor and outdoor activities. Over the years, the line has expanded to include variations for popular sports like football, basketball, and soccer, each designed with the brand's signature foam technology. This innovation not only makes play safer but also more accessible, lowering the barrier of entry for young children or those new to sports. The balls often come in vibrant colors and designs, adding an element of visual excitement. Special editions featuring popular media franchises have also contributed to the line's appeal. Beyond the product itself, Nerf's savvy marketing, often featuring high-energy commercials and celebrity endorsements, has cemented its place as a go-to brand for active play. The continued success of the Nerf line of sports balls reflects the brand's ability to combine fun, safety, and accessibility, creating an enduring favorite in the world of toys and games.