Miracle Moves Baby Doll
Girls can sit her in an upright position and watch her awaken, as her eyes randomly blink with her long, beautiful eyelashes.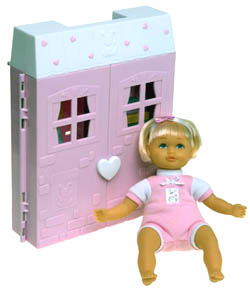 This deluxe nursery environment comes with a soft and cuddly approximately 8 inch mini Miracle Baby doll and lots of accessories and surprises. There is an armoire that opens to reveal a cozy bed for mini Miracle Baby doll and a dresser with a drawer that opens. There is also a play area with a toy bar with spinning beads and a toy box that opens for storage. There are lots of other accessories that are perfect for decorating the nursery with, including a lamp, picture frame and baby monitor. All of the accessories fit inside the house, and there's a special built-in seat on the outside for the mini Miracle Baby doll so you can easily pack up the nursery for on-the-go play. Includes a sweet charm bracelt gift for the girl.