Mirror Jewelry Box Kit
Use acrylic paint in a modern palette to decorate your jewelry with a unique design.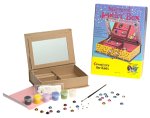 Paint and decorate this mirrored box and transform it into a beautiful, personalized jewelry holder for your rings, necklaces, bracelets, and pins. The box, which is made of stiff cardboard covered in plain brown paper, has three compartments, including one for holding rings, and a flip-up mirrored lid that is held in place by a white satin ribbon. A small brush and a set of nontoxic acrylic paints--in black, yellow, lavender, blue, and green--provide the palette for your decorating inspirations. Start by painting the box to suit your fancy. When the paint is dry, apply a coat of the clear varnish, and then, using the craft glue provided, apply the sparkling rhinestones for a finishing touch. Finally, use the sheet of pink velour peel-and-stick paper to provide an elegant lining for the inside of your jewelry box. The paint dries permanently on most surfaces, so you'll want to line your work area with newspaper, wear old clothes, and wipe up spills right away with soapy water. There's nothing more spectacular than a sparkly box to hold your special items. Use acrylic paint in a modern palette to decorate your jewelry with a unique design. Add rhinestones for glittery accents. There's velvet paper to line the box. And surprise, you'll find a mirror inside.
An art kit that allows you to paint your own jewelry box adds multiple layers of enjoyment and fulfillment to the creative experience. Starting with a blank canvas, children are free to unleash their imagination and artistic prowess, using an array of colors and designs to make the jewelry box uniquely theirs. This form of self-expression provides not only an outlet for creativity but also offers a sense of accomplishment once the project is complete. The finished jewelry box becomes more than just a container for trinkets; it's a personalized keepsake that bears the mark of the child's own handiwork. Furthermore, this activity hones fine motor skills and encourages attention to detail, from painting intricate patterns to perhaps even adding small embellishments like gems or stickers. The art kit also provides a fantastic opportunity for parent-child bonding, making for a fun and productive way to spend quality time together. The end result is not just a painted jewelry box, but a memorable experience and a tangible expression of individuality.