Getting Up Mobile Graffiti Game
Action-adventure game features fluid movement through twenty-seven levels in three environments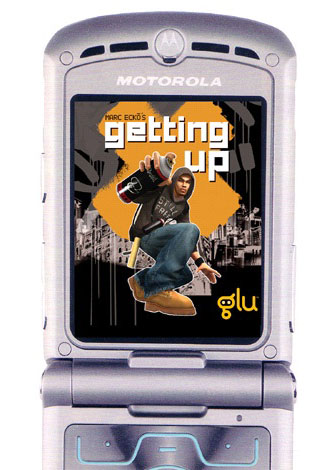 In 2005, Glu Mobile launched Marc Ecko's Getting Up, an action-adventure game based on the title born from collaboration between ecko and Atari.
Developed by The Collective, Marc Ecko's Getting Up: Contents Under Pressure is inspired by graffiti's historically rich and diverse culture and is the culmination of seven years of story and character development by Marc Ecko.
Like its console and PC counterparts, "Getting Up" puts mobile gamers in the shoes of Trane, a talented graffiti artist and headstrong New Radius citizen striving for freedom of expression in a city where free speech has been outlawed by a corrupt government. As he develops his graffiti skills, Trane must inspire a revolution through his artwork, ultimately transforming the world around him from a colorless, urban sprawl into a fresh and vibrant city.
The critically-acclaimed mobile title earned IGN.com's Editor's Choice Award and an 8.4 from GameSpot, whose reviewer said, "Glu Mobile has created a genuinely compelling mobile action game with Marc Ecko's Getting Up."
Execute fluid ninja-style moves in vertically and horizontally designed layouts. Complete works of graffiti art and save the images into a personal black book. Twenty-seven levels feature three environments: city, underground, and bridge. A unique hip-hop score from producer RJD2 accompanies the action. Reach the highest spots and get your graf up while avoiding flyers, search lights, and motion detectors. Progress through levels by guiding Trane through one-way doors, onto moving platforms and off of trampolines.
Getting Up for mobile is now available on major wireless carriers in the U.S. Glu has ported the game to more than 320 handsets for the global launch.
"Marc Ecko's first video game, Getting Up, is one of the most anticipated titles of the Fall and one of the most exciting projects to come to mobile," said Robert Nashak of Glu Mobile. "With Getting Up for mobile, Glu has again taken a console title and successfully reinterpreted it for the mobile platform."