Morph Machines
Toy from the Apprentice that can be transformed and customized will be manufactured by Mattel for Tyco RC line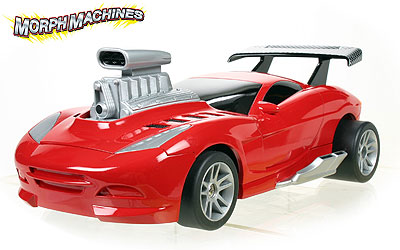 The winning toy from The Apprentice task has everything boys love. It lets kids transform and customize their radio control vehicle by simply snapping on a different hood with a big blown engine, or attaching a pickup truck bed on the back. Kids control the vehicle, drive it, race it, crash it, then they simply put it back together again.
The toy tested so well that Mattel will manufacture it for one of its marquee brands, Tyco R/C, the leading name in radio control, under the name Morph Machines. The Morph Machines will be on toy store shelves in early 2005 for an approximate retail price of 30 dollars.
Morph Machines by Tyco R/C were a line of radio-controlled vehicles known for their ability to transform or "morph" from one type of vehicle into another with the press of a button, offering double the play value. For instance, a car could change into a boat, or a truck could transform into a flying machine, providing dynamic and versatile play experiences for children. This innovative design was an engaging twist on traditional remote-controlled toys, capturing imaginations and allowing for a wider range of imaginative scenarios. Morph Machines were also equipped with robust controls and sturdy construction, making them ideal for both indoor and outdoor play. The morphing mechanism added a layer of complexity and intrigue, giving kids the opportunity to explore different terrains and challenges with a single toy. As a result, Tyco R/C's Morph Machines became a hit, combining the thrill of speed, the excitement of transformation, and the fun of mastering remote controls into one captivating package.