Motor Scooter Samantha
Radio controlled, RC Sam.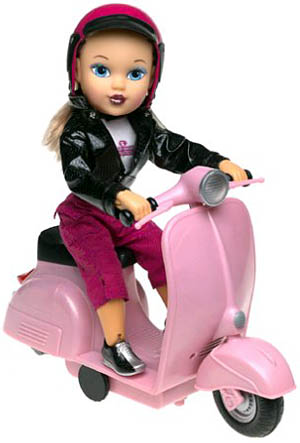 Say hello to Motor-Scooter Samantha, the hottest radio-controlled motor-scooter girl on the streets. Via the ultra cool scooter remote control, command Samantha to pop wheelies, do 360-degree turns, and go wherever it is you want to take her. Real-working headlight and authentic motorbike sounds make this one fun ride. Totally poseable on and off her scooter, Motor Scooter Samantha is available in two different versions based on radio frequency so you can race the dolls against each other for added fun. Colors may vary. Riding a flashy pink scooter with super-cool styling, this Motor Scooter Samantha is the best-dressed rider on the block. Samantha stands more than a foot tall, operates at a remote-control frequency of 49 MHz, is fully articulated, and can be removed from her scooter for hours of play. Samantha comes with an easy-to-use, scooter-shaped radio transmitter that allows you to maneuver her through a variety of moves and stunts on her scooter. Features include racing sounds and a real working headlight. She can pop wheelies and do 360-degree turns at your command (once you pop in the required, but not included, 9-volt and five AA batteries). Samantha comes with a detachable helmet and wears a cool patent leather riding jacket and hot pink capri slacks.