Music and Lights Sit and Spin
Your kids will love taking this whirling wonder for a spin just as much as you'll enjoy watching them.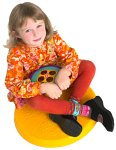 It's wild, it's silly, and it makes you feel dizzy! This Music and Lights Sit and Spin from Playskool adds bright lights and electrifying sounds to its spinning fun. Press one of the illuminated buttons on top and you'll hear any of 9 classic children's songs while you watch the room go 'round. Adult assembly required. This classic is still spinnin' after all these years--and now it's better than ever. The Sit 'n Spin we all know and love has been spruced up for the new millennium with flashing lights and fun tunes. Just press any of the four buttons on the handle, and you're spinning to one of nine classics that include: Rockin' Robin, She'll Be Comin' Round the Mountain, Polly Wolly Doodle, The William Tell Overture, The Wanderer, Twinkle, Twinkle, Little Star, Sailor's Hornpipe, and Are You Sleeping? Sure, it may be a little snazzier than you remember (thanks to the new colors), but the goal remains the same: hours of dizzying enjoyment.
Toys that play music offer a multisensory experience that captivates children's attention while also contributing to their cognitive and emotional development. From simple musical plush toys to intricate electronic instruments, these playthings are designed to engage kids in a joyful exploration of sound and rhythm. The immediate auditory feedback provided by pressing a button or striking a key adds an element of interactive fun that keeps children entertained for extended periods. Beyond mere entertainment, musical toys can aid in honing fine motor skills, improving hand-eye coordination, and even fostering an early appreciation for music and the arts. They also serve as an introductory platform for understanding concepts like pitch, melody, and rhythm. For younger children, music can have a soothing effect, making musical toys especially useful during bedtime or when they are upset. Whether it's a mini piano, a drum set, or a toy that plays lullabies, musical toys are a delightful way to enrich a child's world with the joy and educational value of music.