iZ Interactive Music Toy DJ
Animatronic poseable music character plays songs and responds to the rhythm and tracks of any music source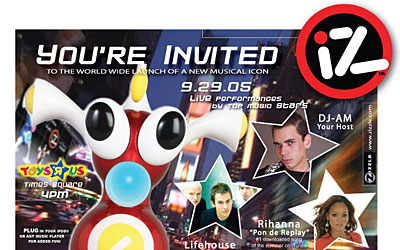 iZ, the first animatronic toy DJ, will make its debut at a special performance at Toys R Us Times Square on September 29. Scheduled to appear are pop music stars Lifehouse, Rihanna, and DJ-AM.
iZ is the first interactive music character with a unique versatility that allows him to create his own music and play the listeners favorite songs. iZ owners can use the included cable to plug in a cd player, iPod or any music source to listen to iZ play music his way.
iZ is a fusion of music and toy with a personality of his own. Twist and turn iZ's ears to create new combinations of rhythm and lead tracks.
Press his belly to change-up the beat. iZ's eyes bounce to the rhythm and lead and his horn glows in rainbow colors to the beat.
Create your own personal mix by picking a beat, rhythm and lead. iZ's belly controls seven beat tracks and his ears control seven rhythms and lead tracks. Control the tempo; speed up or slow down. Flick the flicker on his head to add a scratch to your tunes. iZ's eyes move independently to the rhythm and lead tracks.
Available in three different colors, the poseable music toy stands on any single leg.