My Newborn Baby Doll
You & Me Dream Collection My Li'l New Born Baby with Pink Bear.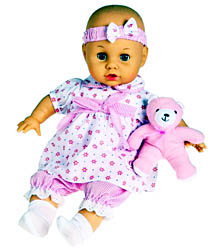 This doll doesn't coo, talk, interact, or build a vocabulary, but what this doll does do is be a doll. And, for many reasons, that's pretty good, because little children don't need someone to lead them in building their imaginations. My L'il New Born Baby measures approximately 15 inches long and has vinyl arms and legs, a soft-filled body, and eyes that blink. Little caregivers will love dressing and undressing My Li'l Baby since she comes with three outfits, plus a bib, underwear, booties, socks, a hat, head garter, and a soft little pink bear attached to her arm by elastic. Other accessories include two magic bottles (the fluid inside disappears when tipped upside down), a sippy cup, and a make-believe baby powder bottle.