My Size Rapunzel Barbie
My Size Rapunzel Barbie Doll.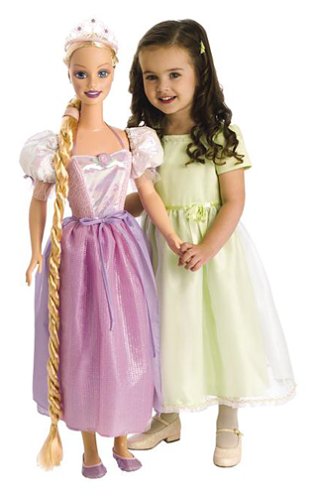 With My Size Barbie Rapunzel, girls can play out the story of Barbie as Rapunzel and pretend to be Rapunzel, the beautiful princess with the longest hair ever. Your little princess will love her My Size Rapunzel Barbie because this is one doll that will never get lost under the couch! Rapunzel Barbie is 3 feet tall with bright blue eyes, pink lips, and long, braided blond hair. She's wearing a pink halter-top made of stretchy fabric, arm sleeves that have an elastic, a full-length pink and lavender skirt that ties around the waist, and little lavender slippers. The doll has a pink tiara and an extra braided hair extension that can be attached to her existing ponytail for acting out the daring rescue by her prince. The best part of Rapunzel Barbie's outfit is that it's the perfect size for a young girl. The top, sleeves, skirt, tiara, and hair braid can all be used by your young princess as dress up clothes for a wonderful afternoon of pretend play.