Mystery Squad Barbie Action Team Dolls
Special vision - Shawnee Kenzee mystery squad action team dolls - Spy glasses.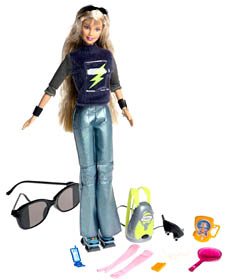 Now you can join the Mystery Squad, the coolest crew of mystery-solving teens! With these dolls and your imagination, you can investigate and solve any mystery you want! Barbie activates her night vision goggles and prepares for a pursuit on her pop-out skates!
A Barbie playset focused on solving mysteries engages children in a thrilling world of problem-solving, deductive reasoning, and imaginative storytelling. This type of playset elevates Barbie from a fashion icon or a career woman to a clever detective, broadening her role and thereby expanding the types of narratives children can explore. It encourages kids to develop analytical skills as they follow clues and solve puzzles to catch the "culprit," effectively merging playtime with cognitive growth. Additionally, mystery-solving involves an array of fun gadgets, disguises, and settings—from magnifying glasses to secret lairs—which add layers of excitement and interactivity to the experience. Through this playset, children can dive into suspenseful scenarios that make them think on their feet, make decisions based on evidence, and, most importantly, serve justice in Barbie's world, all while indulging in endless hours of imaginative play.