Nerf Vortex FireStrike Football
Throw like a pro and light up the action at the same time.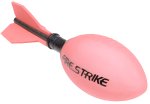 The Nerf Payton Manning Light Up Football by Larami Ltd. is a fantastic new twist on an old idea. The sport of football has always been a popular activity for all ages. Unfortunatley, there were only a certain number of hours in the day that it could be enjoyed, and so football found a flaw. But with some creative thinking, the balls were combined with electricity and flew across the sky with as much accuracy as any other football. The light can be turned on by simply tapping a button, lighting up for 45-60 seconds per tap. Here lies the only problem, sometimes the light goes out and one finds themselves seariching aimlessly in the dark. It might be beneficial to the product if the light was turned on and off at the will of the players, rather than for the sake of the battery. The fun continues, however, with two types of light, strobe or steady. All in all the football performs with the ability of any nerf-type football, while adding a new aspect fun change in the sport. It is now possible for those of us who dont own lighted arenas to get a full 24 hours of football fun.