New Jam Guitar Game
Nu Jam Guitar from the makers of Bop It : Hasbro Games and Tiger Electronics.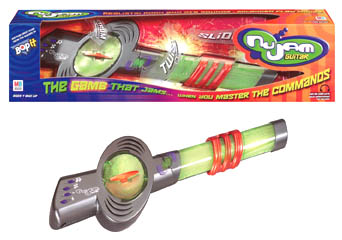 The Nu Jam Guitar electronic game combines kids' two favorite activities -- music and games -- into one all-out, game-play jam session. This stylish guitar-inspired, action-reaction game incorporates real music styles, random sequencing commands, and four game-play options. Each new game creates a unique play experience and a different piece of music. Players don't need to be musicians to master the new jam guitar game. Through sequences of lights and sounds, the game unit directs the next move. Players respond to the game's visual and audio commands by moving the sliding handle, strumming the strum bar or twisting the guitar-shaped neck. As the game progresses, the jamming intensifies, prompting the player to respond quickly and correctly to keep up with the tempo and keep the game -- and the music -- going. Concert applause and colorful lights reward winners and an audio output jack allows players to amplify their game play experience.
Electronic guitar games that sense responsiveness to upcoming moves provide an exciting, interactive way to engage with music and gaming simultaneously. These specialized games use advanced sensors and algorithms to track the player's finger placements, strumming techniques, and even their rhythm, adapting the game's difficulty and song sequences in real-time. This responsive technology takes the gaming experience to a whole new level, making it not just about hitting the right notes, but also about the nuances of musical expression. For budding musicians, this feature serves as an educational tool, teaching them the basics of chord structures, scales, and timing. For seasoned guitarists, it offers a challenge to master the game at higher difficulty settings. And for everyone else, it's a fun, immersive way to feel like a rock star, receiving real-time feedback and a dynamically changing gameplay experience that keeps them strumming for hours on end.