Nerf Football
Nerf Peyton Manning Light Up Football.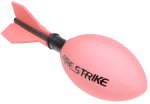 The Nerf Payton Manning Light Up Football by Larami Ltd. is a fantastic new twist on an old idea. The sport of football has always been a popular activity for all ages. Unfortunatley, there were only a certain number of hours in the day that it could be enjoyed, and so football found a flaw. But with some creative thinking, the balls were combined with electricity and flew across the sky with as much accuracy as any other football. The light can be turned on by simply tapping a button, lighting up for 45-60 seconds per tap. Here lies the only problem, sometimes the light goes out and one finds themselves seariching aimlessly in the dark. It might be beneficial to the product if the light was turned on and off at the will of the players, rather than for the sake of the battery. The fun continues, however, with two types of light, strobe or steady. All in all the football performs with the ability of any nerf-type football, while adding a new aspect fun change in the sport. It is now possible for those of us who dont own lighted arenas to get a full 24 hours of football fun.
A light-up football takes the classic joy of tossing the pigskin and elevates it into a magical experience. With embedded LED lights that illuminate the ball, night games become not just possible, but incredibly fun. The glow from the ball turns every spiral into a streak of light, transforming the backyard or field into a dazzling arena. This isn't just a game; it's a spectacle, a light show choreographed by the players themselves. The added visual element creates an immersive experience and adds an extra layer of excitement to the game. It's especially a hit during parties, camping trips, or any gathering where the vibe is set for fun and togetherness. Plus, it makes playing safely into the evening hours easier, allowing the game to go on long after the sun has set. Whether you're a serious athlete or just looking for some nocturnal fun, a light-up football adds a sparkling twist to the time-honored sport.