Nickelodeon Skweez - Nickelodian Squeeze Nickelodean
Nickelodeon Squeeze is a fun amazing toy.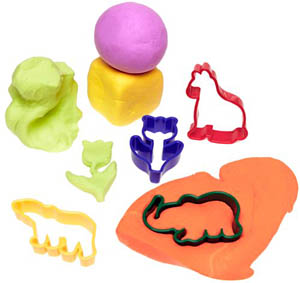 Skweeezdome is like modeling clay, but with a strikingly different feel than your traditional Play-Doh--it's fluffy, almost like malleable styrofoam. It's not better or worse than similar products you're used to, just different: it can be stretched out in long, stiff strands, unlike anything you can do with normal modeling clay, but doesn't have the sensitivity to make detailed impressions. This stuff will eventually lose its air and resilience, but then again, all such mushy playthings tend to have pretty short life spans. A nice bonus is the transparent brain-shaped container the stuff comes in, with a separate compartment for each color. It also comes with a number of animal cutouts for making shapes. The Puffy Fluff for Making Stuff. Playdome with 4 assorted cookie cutters, easy to close lid, and locks in place. Here is how to use your Skweeez. Flip open the lid and squeeze to create fun and cool shapes! Open the pouch to grap a handful of soft Skweeez. Make and create your own Skweeez work of art. When you are done put Skweez back into the pouch to keep it soft for continuous use. If it begins to harden, add a few drops of water to restore freshness.
Nickelodeon Skweez is a unique and entertaining art material that has become a favorite among children and creative minds. Known for its malleable, fluffy, and moldable texture, Nickelodeon Skweez offers a delightful and imaginative play experience. Here's what makes Nickelodeon Skweez so much fun:
Soft and Fluffy Texture: Nickelodeon Skweez has a soft and fluffy texture that feels wonderful to the touch. Its squeezable nature provides a tactile and sensory experience that is both engaging and satisfying.
Creative Exploration: With Nickelodeon Skweez, creativity knows no bounds. From shaping characters and animals to crafting imaginative landscapes and abstract designs, Nickelodeon Skweez allows users to explore their artistic side and express themselves freely.
Colorful Fun: Often available in vibrant and eye-catching colors, Nickelodeon Skweez adds a splash of color to any creation. Mixing and blending colors adds an extra layer of excitement and artistic experimentation.
Reusable and Easy to Clean: Nickelodeon Skweez is designed for repeated use, allowing for endless hours of play and creativity. Its non-stick and easy-to-clean properties make it a convenient and hassle-free art material.
Educational Value: Playing with Nickelodeon Skweez helps develop essential skills such as fine motor control, hand-eye coordination, and spatial awareness. It's an enjoyable way to learn and grow through hands-on play.
Therapeutic Benefits: The calming and soothing nature of molding and shaping Nickelodeon Skweez has therapeutic qualities. It can be a relaxing and mindful activity that promotes emotional well-being.
Social Play: Nickelodeon Skweez encourages collaboration and social interaction. Friends and siblings can work together on creative projects, share ideas, and enjoy quality time together.
Safe for Children: Made from non-toxic and child-friendly materials, Nickelodeon Skweez ensures a safe and enjoyable play experience for children of various ages.
Nickelodeon Skweez's distinctive properties and boundless creative possibilities make it a cherished and stimulating art material. It invites curiosity, imagination, and joy, providing hours of captivating and artistic play. Whether sculpting whimsical figures, building dreamlike worlds, or simply enjoying the sensory pleasure of squeezing and molding, Nickelodeon Skweez offers an enchanting and unforgettable experience that delights creators young and old.