Nickelodeon Skweez - Nickelodian Squeeze Nickelodean
Nickelodeon Squeeze is a fun amazing toy.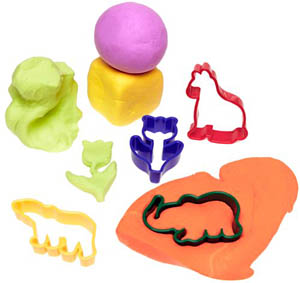 Skweeezdome is like modeling clay, but with a strikingly different feel than your traditional Play-Doh--it's fluffy, almost like malleable styrofoam. Itís not better or worse than similar products you're used to, just different: it can be stretched out in long, stiff strands, unlike anything you can do with normal modeling clay, but doesn't have the sensitivity to make detailed impressions. This stuff will eventually lose its air and resilience, but then again, all such mushy playthings tend to have pretty short life spans. A nice bonus is the transparent brain-shaped container the stuff comes in, with a separate compartment for each color. It also comes with a number of animal cutouts for making shapes. The Puffy Fluff for Making Stuff. Playdome with 4 assorted cookie cutters, easy to close lid, and locks in place. Here is how to use your Skweeez. Flip open the lid and squeeze to create fun and cool shapes! Open the pouch to grap a handful of soft Skweeez. Make and create your own Skweeez work of art. When you are done put Skweez back into the pouch to keep it soft for continuous use. If it begins to harden, add a few drops of water to restore freshness.