Nutty Elephant Board Game
The who can feed him first game.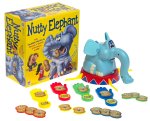 Nutty Elephant is a spinning, talking, musical elephant with flopping ears and a trunk that moves up and down. Nutty is always hungry for peanuts. See if he will take one from your hand. As Nutty lifts his trunk up, up goes your peanut. Be the first to get all of your peanuts in Nutty's mouth and you win.