Official Beach Volleyball
Wilson AVP Official Beach Volleyball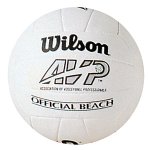 Premium Cordley microfiber composite leather cover for soft touch and feel. Two-ply rotationally molded thermal polyurethane bladder. Ply/cotton lining surrounds the bladder providing extra layers of softness. 18 panel hand-sewn construction. Official size and weight.
Aspects of Beach Volleyball and the Importance of an Official Ball
Two Teams: Beach volleyball is played with two teams, usually consisting of two players each.
Sand Court: The game is played on a sand court, which adds an extra challenge to movement and ball control.
Net: A net divides the court, and players must send the ball over the net during play.
Scoring: Points are scored by landing the ball in the opponent's court, and games are typically played to 21 points.
Serving: Players serve the ball from behind the backcourt line, and serving can be done underhand or overhand.
Ball Handling: Players must use controlled touches, and double hits or carries are usually considered faults.
Rally Play: Teams rally the ball back and forth until a point is scored.
Official Ball: Using a ball that is built to official standards ensures consistency in size, weight, and material. This helps in maintaining fairness and uniformity in the game, allowing players to focus on skill and strategy rather than adjusting to variations in the ball's behavior.
Utilizing a ball built to official standards in beach volleyball is crucial for maintaining the integrity of the game. It ensures that all players are competing with the same equipment, adhering to the same rules, and that the outcome of the game is determined by skill, teamwork, and strategy rather than inconsistencies in the ball's construction. It also helps in training and professional development, as players can practice with the same type of ball that will be used in official competitions.