Password Journal - Girl Tech
Excellent toy for a child with a diary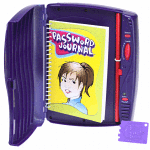 Password Journal - Girl Tech - High tech meets low tech with this paper journal locked inside a carrying case that opens only when you speak your password. This 6-by-7-by-2-inch hard plastic case, one of a series of Girl Tech toys, guarantees security for your journal. Open the case using the plastic reset key and follow the instructions to record your password. Once the journal is closed, it will open only when your voice repeats your password. (The plastic reset key will still work in case you forget the password, so hide the key well.) The journal is a removable, 25-page, 4-by-6-inch, spiral-bound, blank notebook with the Girl Tech girl printed on the cover. Hidden under the notebook is a small secret compartment (2 by 3 by 0.5 inches) that is useful for keepsakes, or perhaps that's where you should keep the real diary. Girl Tech's Password Journal is the only journal that uses Voice Recognition - so you can keep your secrets safe the high tech way! Record your password into the journal. Inside there's a pencil and a customized Girl Tech notebook. Lots of storage for your papers and small treasures. There's even a hidden compartment. Others may try to open it, but only you can access it with your password. It will also let you know if intruders tried to enter.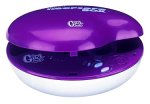 Girl Tech Password Keepsafe Box - A good addition to the password journal, this girls-only, infrared-controlled lock box is great. From secret phone numbers to cherished trinkets, it's one of the most secure places a girl can put her most precious belongings. Once a vocal password is entered and the box is closed, no one can open it but its owner. Inside, a roomy secret compartment guarantees complete privacy from snooping brothers--and parents.
A journal with voice recognition protection combines the age-old love of diary-keeping with modern technology, offering kids a sense of privacy and personal space for their thoughts. The voice recognition feature ensures that the journal opens only for the owner, providing an added layer of security and a dash of spy-like intrigue. This unique feature appeals to children's desires for personal boundaries while also igniting their imaginations. Additionally, the electronic element encourages tech-savvy kids to engage in more traditional forms of self-expression like writing. In essence, it's not just a book of blank pages—it's a personalized, high-tech treasure chest of one's innermost thoughts and creative ideas.