Pets Peg Puzzle
Pets 9-piece Peg Puzzle with a beautiful full color matching picture under each piece.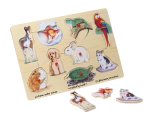 Baby animals from foals to fish are the stars of this wooden peg puzzle. Each baby animal can be lifted out of the natural wood frame using a small red peg embedded in each puzzle piece. The same laminated pictures that appear on the pieces are illustrated on the puzzle board, making it easy for younger preschoolers to match the animal pairs. The puzzle has rounded edges and the pieces are smoothly sanded. Because this high-quality toy is made to last, several generations of children will enjoy playing with it. This 9" x 12" puzzle has a beautiful full color matching picture under each piece. Small hands can easily remove each piece.
Young children are naturally drawn to puzzles featuring baby animals for a variety of reasons. First and foremost, baby animals often evoke a sense of wonder and cuteness that captivates a child's attention. The recognizable shapes and vibrant colors commonly used in these puzzles also help to engage children visually. Moreover, these puzzles offer an excellent opportunity for youngsters to develop important skills such as hand-eye coordination, problem-solving, and spatial awareness in an entertaining context. Completing a puzzle with an adorable baby animal as the end result serves as an immediate reward and affirmation of a job well done, instilling a sense of achievement and boosting self-confidence. Additionally, baby animal puzzles often serve as a gateway to conversations about nature, nurturing a child's curiosity about the animal kingdom. Overall, puzzles with baby animals blend educational value with sheer delight, making them a favorite among young children.