Pixter Digital Handheld Computer
Pixter - the digital handheld computer that lets you create and eliminate.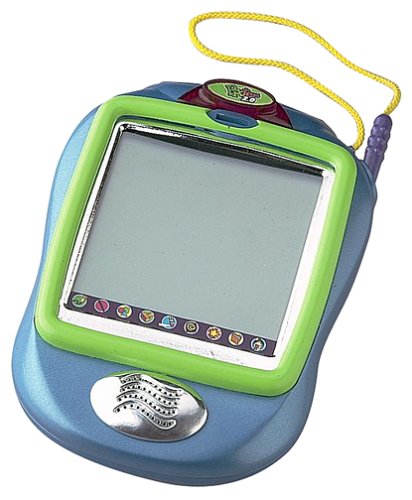 The Pixter digital handheld computer was a popular children's toy that combined learning and entertainment.
Touch Screen Interface: The Pixter featured a touch screen that allowed children to interact with games and activities using a stylus.
Monochrome Display: The original Pixter came with a monochrome LCD screen, providing a clear and simple visual experience for young users.
Educational Games: Pre-installed and cartridge-based games focused on educational themes such as math, spelling, logic, and creativity.
Art and Drawing Tools: The device included drawing tools that allowed children to create and color pictures, fostering artistic expression.
Music and Sound Effects: The Pixter offered engaging sound effects and background music to enhance the interactive experience.
Expandable Content: With the use of plug-in cartridges, the Pixter's content could be expanded, offering a variety of additional games and activities.
Portable Design: Its handheld design made the Pixter easy to carry, allowing children to take it on the go.
Parental Controls: Parents could control and monitor the content, ensuring age-appropriate games and activities for their children.
Customizable Appearance: Some versions of the Pixter allowed for customization with interchangeable faceplates, letting children personalize their device.
Battery-Operated: The Pixter ran on batteries, making it convenient for travel and play without the need for constant charging.
Durable Construction: Built with children in mind, the Pixter was designed to withstand rough handling and drops, ensuring longevity.