Playdoh Toys
Colorful modeling compound expands line
In 2003, Hasbro took Playdoh, the number one modeling compound, to a whole new place -- literally. Doh-Doh Island playset brought Playdoh fun to a tropical setting featuring new characters, the Doh-Dohs. Additional line expansions include an all-in-one Playdoh workstation, handy workshop tools and kids' favorite food selection playsets. The creativity was endless in 2003, when youngsters use the colorful modeling compound for everything from make-believe hamburgers to wood-scented houses.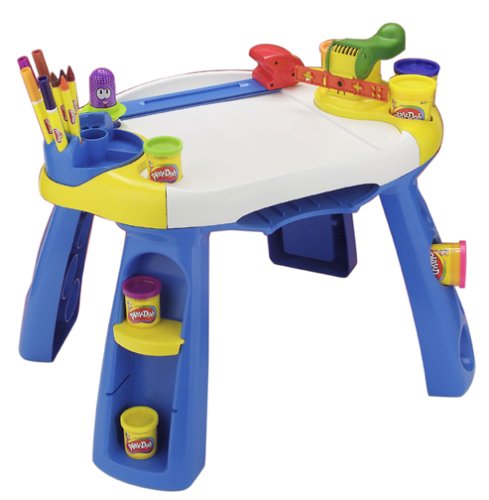 The Playdoh Creativity Table is the ultimate all-in-one Playdoh play station. The huge workspace provides a place for lots of creative play with markers, crayons, and of course, Playdoh. Kids will enjoy endless fun in this contained play place, featuring such Playdoh favorites as the Fun Factory Extruder and Fuzzy Pumper. This toy really gives Playdoh a home with lots of storage for tools and Playdoh cans in the table legs. The Playdoh Creativity Table includes four Playdoh crayons, four Playdoh markers, 12 sheets of paper and eight cans of Playdoh.
Playdoh Doh Doh Island playset is the place where the Playdoh compound flows and the Doh Doh characters play. It is the introduction of great character play within the Playdoh brand. The set comes with 3 Doh Doh characters named Mot, Twango and Zlok, -- each having their own zany extrusion pattern when you load them up with Playdoh compound. The Doh Doh Island past time is Tiki Bowling. Children can mold different Tiki statues and then roll a Playdoh bowling ball down the island volcano. Watch out because at any time you can make the all-powerful volcano could erupt with more Playdoh compound adding to the fun. There is a secret hiding spot in the island. And the Playdoh play continues with the extruding Palm Tree that also acts as a roller and the Tiki Torch knife. Includes (4) 2 oz. cans of Playdoh brand modeling compound.
Now kids can have a toy Playdough George Foreman Grill like grown ups. Mold and make an entire pretend Play-doh meal complete with hot dogs and buns, hamburgers with veggies, bacon and French fries, chicken, fish and steak. Once the food is made, "grill it" to get cool sizzling sounds and "grill lines." The Play-doh George Foreman Grill comes in red, blue or teal and contains all of the accessories just like a real grill, including a "grease catcher" and spatula. Includes four cans of Play-doh to get you started.
Easy to create ... always perfect. The Play-doh First Creations Super Suitcase is filled with over 20 plastic pieces and 20 oz. of Playdough compound so the youngest Play-doh kid can make trains, planes and automobiles. And they come out looking "perfect" every time. After the child creates their masterpieces, all of the supplies store right back inside the case. Fun at home or on the go.
Play-doh Mcdonalds Restaurant Playset - The only place you can make all of the food they get during a visit to McDonalds; McNuggets, French fries, hamburgers and ice cream cones. They can mold pretend burgers, buns and McNuggets in the rooftop molds and then put them in the burger box. They can also extrude Play-doh shakes and fries into a cup and French fry holder. The ultimate McDonald's experience.
The Play-doh Workshop line provides children with the tools to turn their imaginations into creations.
With the Play-doh Buzzin' Buzz Saw playset, you can mold and extrude pretend wood pieces to build and create. The real magic happens when you press the Play-doh compound against the Buzz Saw's pretend blade and it "cuts" through Playdo compound while making a vibrating sound effect. The playset also includes a thought starter booklet to help spark ideas for different structures and plenty of Play-doh storage room. The Play-doh compound included with this playset is wood-scented.
Now kids can use a pretend power drill to drill bits into Play-doh compound. The Play-doh Power Drill Kit comes with two pretend drill bits and a variety of screws. The reusable case allows the Play-doh Workshop to go on the go. The Play-doh compound included with this playset is wood-scented.
The Play-doh Hand Tools includes a pretend hammer and saw that you can use to pound and cut Play-doh compound. Use the back of the hammer to roll out pretend "nails" in the Play-doh compound and use the saw to extrude shapes that can be cut out. The Play-doh compound included with this playset is wood-scented.