Play-Doh Ice Cream Shop
Creatable, colorful, makeable fun. Twirl, swirl candy for top.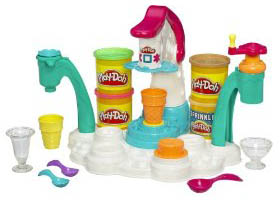 Create colorful treats with this pretend sweet shoppe. Swirl, scoop and mold lots of pretend goodies, including pretend soft-serve ice cream in cones or cups, mini candies, cookies, pretzels, and a play cake. Two swirl designs let you create colorful cones. Even top your magical masterpieces with fun fake toppings, like sprinkles or make-believe whipped cream. Spoons, dishes and pretend cones let you serve up fun. Playset includes four three-ounce cans of Play-Dough clay and over forty molds and accessories.
Playing with Play-Doh modeling compound is a cherished childhood experience that ignites creativity and imagination. The tactile sensation of squishing, rolling, and shaping the soft, pliable material provides a satisfying and engaging hands-on activity. The vibrant array of colors allows kids to bring their ideas to life, whether they're molding animals, vehicles, or fantastical creatures. The versatility of Play-Doh encourages experimentation, as children learn to mix colors, layer textures, and sculpt intricate details. This process fosters fine motor skills and hand-eye coordination while also serving as a form of sensory exploration that can be both calming and stimulating.