Pokemon Camera
Pokemon camera features Pikachu.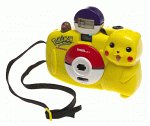 Just when you thought you'd seen it all, here comes the Pokemon camera. A 3-D Pikachu form is molded into the camera and joins you when you turn your attention to your favorite subjects--your room, your friends, or even your Pokemon collectibles. This bright yellow 35-mm instamatic with a plastic body comes with a built-in flash and a long carrying strap. There's a special bonus once the pictures are developed: each print is framed in a Pokemon cartoon border. Real 35mm camera accepts film up to 36 exposures. A special Polaroid border will magically appear in each photo.
A Pokémon-themed camera combines the excitement of photography with the allure of one of the world's most popular franchises. For young Pokémon fans, this camera becomes more than just a device to capture memories; it's an extension of their fantasy world, imbued with the charm and magic of Pikachu, Charizard, and other beloved characters. The themed interface, possible in-camera effects, and even the exterior design featuring Pokémon motifs make the act of taking photos a more engaging and delightful experience. It's not just about snapping pictures; it's about embarking on a photographic journey in the Pokémon universe.