Pokemon News
Enhances strategic thinking, promotes positive values, improves memory skills, and increases mental agility and awareness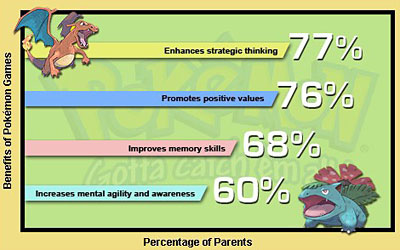 In 2010, a survey of nearly 2,100 parents confirms that Pokemon video games help kids learn important core values and skills. Nintendo commissioned the survey to coincide with today's launch of two new highly anticipated video games, Pokemon FireRed and Pokemon LeafGreen for Game Boy Advance.
More than 75 percent of parents think that Pokemon does a good job of promoting positive values and enhances strategic thinking. Almost 70 percent say that Pokemon improves memory skills and promotes teamwork. More than 60 percent believe that Pokemon increases mental agility and awareness as well as promotes cooperation with friends.
The Pokémon franchise has had a significant impact over the years, with numerous highlights and milestones.
Launch of Pokémon Red and Green: The original Pokémon games were released in 1996 for the Game Boy in Japan, marking the beginning of the franchise.
Pokémon Anime Series: The Pokémon anime, featuring Ash Ketchum and Pikachu, debuted in 1997 and became a global phenomenon.
Pokémon Trading Card Game: Introduced in 1996, the Pokémon Trading Card Game became a popular collectible card game with tournaments held worldwide.
Pokémon Gold and Silver: Released in 1999, these games introduced the second generation of Pokémon and new gameplay mechanics like day and night cycles.
Pokémon Ruby and Sapphire: The third generation of games, released in 2002, introduced the Hoenn region and new features like double battles.
Pokémon Diamond and Pearl: The fourth generation, released in 2006, brought online trading and battling to the series.
Pokémon GO: Launched in 2016, this mobile game used augmented reality to allow players to catch Pokémon in the real world.
Pokémon Sword and Shield: Released in 2019 for the Nintendo Switch, these games introduced the Galar region and the Dynamax mechanic.
Pokémon Movies: Numerous Pokémon films have been released, including the first movie in 1998 and the CGI remake of "Mewtwo Strikes Back" in 2019.
Pokémon Home: Launched in 2020, this cloud-based service allows players to store and trade Pokémon across different games.
Pokémon 25th Anniversary: Celebrated in 2021 with special events, collaborations, and releases, marking a quarter-century of the franchise.
Expansion of Spin-offs: Various spin-off games like "Pokémon Mystery Dungeon" and "Pokémon Snap" have added depth to the franchise.
Merchandising and Cultural Impact: Pokémon has become a cultural icon, with extensive merchandising, theme park attractions, and even a presence in the Macy's Thanksgiving Day Parade.
Competitive Scene: The Pokémon World Championships have become a major eSports event, showcasing competitive Pokémon battling.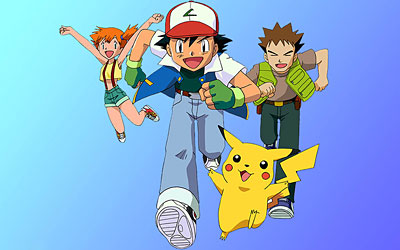 Pokemon was launched in Japan in 1996 for play on Nintendo's Game Boy and has evolved into a global cultural phenomenon. Pokemon was introduced in North America in September 1998 and has since generated more than $15 billion in worldwide retail sales. More than 38 million Pokemon video games have been sold in the United States, including Pokemon Ruby and Pokemon Sapphire, which were the No. 2 and No. 3 best-selling video games of 2003, according to the NPD Group. The trading card game, fueled by organized play programs around the world, has spurred global sales of more than 13 billion cards to date, while the Pokemon animated series on Kids' WB!, now in its sixth season, consistently ranks within the top three shows for boys ages 6 to 11.
Pokemon Stash
The Pokemon franchise continues to be incredibly popular. Pokemon Colosseum for Nintendo GameCube sold 400,000 copies in just four weeks after its March 2004 launch in the United States. Pokemon Ruby and Pokemon Sapphire, launched in 2003 for Game Boy Advance, have sold more than 3.6 million units in the United States. And Pokemon FireRed and Pokemon LeafGreen, coming Sept. 7 for Game Boy Advance, will keep Pokemon all the rage.