Pokemon Card Holders
Pokemon 2-inch Card Binder.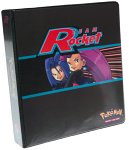 Now you can catch -- and keep -- 'em all. The hottest trading card game ever just got easier to organize with this glossy Collector's Album. Now you can save and store the entire Pokemon card set in this colorful, thick binder -- making it a snap to bring your set wherever you go. Each Ultra-PRO storage page has 9 pockets, so you'll have plenty of room for all your cards, and you can sort the cards alphabetically -- or even by color. No Pokeman player or collector can be a true monster trainer without this awesome album --gotta catch it now! Includes 5 Ultra-PRO pages. Pokemon cards sold separately.
A good storage system for collectible playing cards serves multiple important functions: it protects the cards from physical damage, environmental factors like moisture, and preserves their value over time. For collectors, the condition of cards is paramount, and a dedicated storage system ensures that the cards stay in mint or near-mint condition. In addition, a well-organized storage solution allows for easy access and display, enhancing the joy of collecting. Proper storage can also make trading, selling, or appraising the cards far more convenient. Ultimately, investing in a good storage system is an essential part of responsible stewardship of a valuable and often sentimental collection.