Pokemon Card Holders
Pokemon 2-inch Card Binder.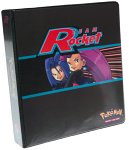 Now you can catch -- and keep -- 'em all. The hottest trading card game ever just got easier to organize with this glossy Collector's Album! Now you can save and store the entire Pokemon card set in this colorful, thick binder -- making it a snap to bring your set wherever you go! Each Ultra-PRO storage page has 9 pockets, so you'll have plenty of room for all your cards, and you can sort the cards alphabetically -- or even by color. No Pokeman player or collector can be a true monster trainer without this awesome album --gotta catch it now! Includes 5 Ultra-PRO pages. Pokemon cards sold separately.