Pokemon Challenge Workbooks
Take advantage of your child's love of Pokemon to encourage learning.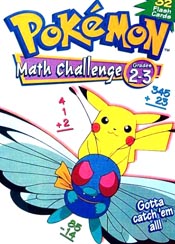 Grade 2-3 Spans problems covered in both 2nd and 3rd grades. Uses Pokemon characters and information in one and two-digit addition and subtraction problems, the harder ones requiring regrouping (carrying). Also has four sheets with 32 perforated flashcards. The back sides of these are decorated with Pokemon characters and divided into trainer and master level problems.