Pokemon Fire Red Leaf Green
Game Boy Advance Wireless Adapter on release date and Pocket Trainer's Guide with pre-order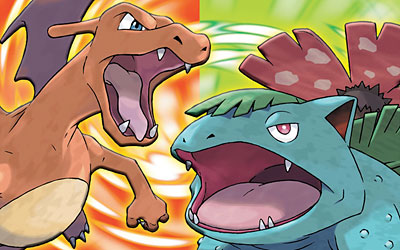 Starting August 1, those who place a deposit to reserve a copy of Pokemon Fire Red or Pokemon Leaf Green for Game Boy Advance at participating retailers will immediately receive the Pokemon Pocket Trainer's Guide -- a handy reference guide for seasoned players or a tutorial for beginners.
The guide provides detailed Pokemon facts and information about the various characters, perfect for an introduction to the Pokemon universe, yet enough to satisfy even the most rabid Pokemaniacs. The Pokemon Pocket Trainer's Guide includes stats about each of the 17 types of Pokemon, suggestions about how to find them, evolve and battle them, plus a beautiful, full-color map of the Kanto region. Guides are pocket-sized and easily portable with the Game Boy Advance.
Fans will receive another bonus when the games arrive in stores on September 7. Pokemon Fire Red and Pokemon Leaf Green will come bundled with the new Game Boy Advance Wireless Adapter, which lets players trade, battle and chat with one another with no connecting cords. Each game will sell for $39.99.
The Pokemon franchise remains as popular as ever. Pokemon has sold more than 128 million video games worldwide, accounting for more than $4 billion in sales. For several weeks in early 2004, Pokemon Colosseum, made exclusively for Nintendo Game Cube, and its pre-sell bonus disk outsold every software title and video game console. And in Japan, Pokemon Fire Red and Pokemon Leaf Green sold more than 2.5 million units in just over three months.
Pokemon Fire Red and Pokemon Leaf Green offer never-before-seen features, including Union Rooms, hubs for social game play where up to 40 players can meet and chat wirelessly to trade and battle Pokemon or just make conversation using chat functions. The games also feature a more colorful and easier-to-use Pokedex that lets users sort their Pokemon in a variety of different ways.