Poo-Chi Puppy Robot Poochi Dog Poochy
Poo-Chi is a robotic dog that fits in the palm of your hand.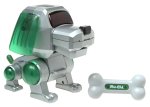 He sings, plays games, has an animated head, ears, legs, and mouth, and can sense light, sound, and touch. Poo-Chi uses advanced bio-rhythmic technology to create responses that adapt and change. Poo-Chi, the Interactive Puppy, is a new type of friend. Poo-Chi expresses his emotions through his bright expressive eyesflapping ears and wagging tail. Enjoy hours of playful singing, fun dancing and real puppy sounds. Poo-Chi uses advanced technology to create realistic emotional responses that adapt and change as you play with him. The more you play with Poo-Chi, the happier he becomes - he may even sing a special song for you. Poo-Chi will play the best on a smooth, flat surface. Make certain that the area is clear of obstacles so Poo-Chi can stand, sit and dance on his tiptoes. Poo-Chi is very unpredictable. Activate one of Poo-Chi's sensors to see what he will do! Poo-Chi has three sensors: light sensor, sound sensor and a touch sensor. Poo-Chi's eyes are very expressive. Poo-Chi's eyes will tell you if he is happy, sad, sleepy, and that he loves you. Poo-Chi can even blink. Poo-Chi loves to be cared for and the more you take care of Poo-Chi, the happier he will be. Feed Poo-Chi by holding the middle of the bone in front of Poo-Chi's mouth. Poo-Chi will respond with happy eyes, wagging tail and a special eating sound.
Because Poo-Chi is a puppy, he needs his sleep. Just like a real puppy, Poo-Chi will fall asleep when it is dark or when no one is playing with him. When Poo-Chi gets tired, he will sit down and his eyes will flash and close. You may even hear a little snore. To wake up Poo-Chi when he is in a deep sleep, press his head button. If Poo-Chi was sad when he fell asleep, it may take him a little while to completely wake up so you may need to press his head button more than once. If Poo-Chi was happy when he fell asleep, he will quickly wake up. Enjoy hours of fun singing different songs and playing games with Poo-Chi. This life like pup has an animated head, ears, legs, and mouth. And just like a real puppy, he can stand, sit, or dance on his tiptoes! He can sense light, sound, and your special touch! His advanced technology allows him to communicate and play with his other Poo-Chi pals. Because he's so lifelike, he needs extra love and plenty of food, so don't forget to feed him his special bone. The more you care for him, the happier he will be. Poo-Chi uses advanced bio-rythmic technology to create realistic emotional responses that adapt and change as you play with him. His big expressive eyes will melt your heart whether he's telling you he's happy, sad, or just that he loves you. Comes with Poo-Chi the Interactive Puppy, Poo-Chi bone, Instruction Manual