Power Air Surfer Planes
Radio Control Air Surfers Plane Red and Yellow.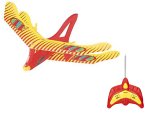 Dynamic wing design. Maximum flight range: Up to 300 feet. Wing span: 30 inches. Dives. Barrel Rolls. Spins. Glides. Easy to use controller. Powerful strut mounted propellers. Battery requirements: Plane: 7.2V rechargeable battery (included); Radio Controller: 1 x 9V battery (not included); Field Charger: 8 x 1.5V C cell batteries (not included). Assembly required.