Power Scooters
Power scooter purchasing information.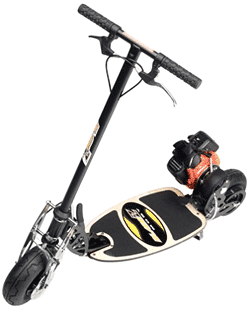 BladeZ Moby Extreme 35cc Gas Power Scooter
Gas Power Board
35cc Tanaka 2-stroke engine
16oz fuel capacity, 30:1 fuel/oil ratio
Up to 27mph with 20mile range
Steel frame
Belt/pulley drive system
10" pneumatic (air filled) tires
Vented front disc brake with replaceable pads
Compact folding design
Max rider weight 350lbs
Weighs 40lbs
90-day manufacturers warranty
Safety and Legal Notes:
Be sure to wear protective gear when riding bikes, scooters, skateboards, & skates. Attention Louisiana residents: Louisiana law requires a bicycle operator or passenger under the age of twelve years to wear a bicycle helmet when riding a bicycle. Louisiana law also requires a passenger who weighs less than forty pounds or is less than forty inches in height to be properly seated in and adequately secured to a restraining seat.
The purchase, use and/or operation of this item is governed, restricted or prohibited by state and local laws, ordinances and regulations. These laws may be in effect where you live. You should check with your state and local authorities before purchasing and using this item. You should also check after your purchase for changes that may occur in your local law. Because laws related to these products vary by location, vendors do not monitor these laws and are not legally responsible if you do not obey them. You are responsible for your compliance with such laws, ordinances or regulations.