Quick Wrap from Conair
With beads and tassle charms.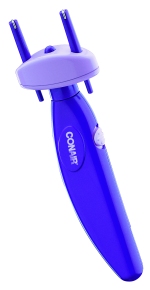 Threader stores in base of unit to feed hair and string through tool. 2 spools of string: colorful rainbow and light blue silver accent thread. Approximately 42 feet of string per spool which allows for 5 wraps or more, depending on hair length. 12 designer beads and charms plus extra replacement threader. Extra bundle of thread plus 1 AA battery.
The Quick Wrap from Conair adds a splash of fun and creativity to hairstyling, allowing users to effortlessly weave colorful patterns into their hair. It's not just about the end result; the process itself becomes an engaging activity, often sparking interest in hair design and fashion. Whether you're preparing for a special occasion or simply want to express yourself, this tool makes it easy to customize your look. The device is typically user-friendly, encouraging even those who might not have much experience with hairstyling to experiment and create. The variety of color options ensures that you can match your hair art to your mood, outfit, or event, making each use a unique experience.