Quick Wrap from Conair
With beads and tassle charms.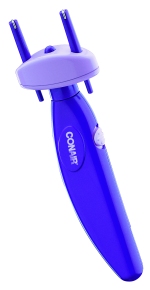 Threader stores in base of unit to feed hair and string through tool. 2 spools of string: colorful rainbow and light blue silver accent thread. Approximately 42 feet of string per spool which allows for 5 wraps or more, depending on hair length. 12 designer beads and charms plus extra replacement threader. Extra bundle of thread plus 1 AA battery.