Radio Disney Pop Dreamers
Ari, Gabriella, Ella - They talk together.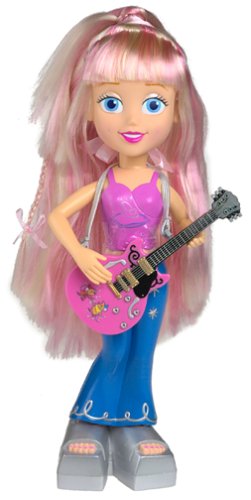 Meet the Radio Disney Pop Dreamers. Gabrielle, Ella, and Ari are a musical trio inspired by their favorite Disney Princesses, Belle, Cinderella and Ariel. Each doll plays guitar, sings songs, knows which of her 3 outfits that she is wearing, and even knows her friends' outfits. The dolls can sing with their guitars on their own, as a duo if to dolls are present, or as a trio if all 3 dolls are together.
Dolls that can play the guitar offer a unique blend of traditional doll play with a musical twist, expanding the scope of imaginative play for children. These dolls often come equipped with miniature guitars and sometimes even a small amplifier, providing an interactive experience that can include a variety of songs or chords. Children can pretend their dolls are rock stars, folk singers, or famous guitarists, thus deepening the narrative scenarios they can create during playtime. It's not just about dressing up and combing hair; now the doll can also entertain, teach music basics, and perhaps even inspire a future interest in learning a musical instrument. In a way, a doll with a guitar becomes a multi-dimensional character, giving children the opportunity to explore both musical and non-musical storylines.