Razor A2 Scooter
Razor scooter details.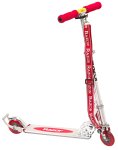 Batteries included?! Yep, Razor has really upped the ante with the A2 line of collapsible scooters. They took the standard setup and added a whole mess of innovations--including taillights. Whether that sounds fun or corny to you, this is no gimmick: it makes the scooter a whole lot safer. Also included are tiny (but stylish and quite effective) red front shocks that match the wheels, grips, shoulder strap, and deck logo. The other big innovation is a rear kicktail for jumps and other stunts. It's a metal bar just above and behind the rear footbrake. Huge fun--but take our advice and spend 10 minutes making real sure you can reliably avoid the kicktail when what your heel is aiming for is the brake. A class act, right down to the thick foamy hand grips. What's faster than a speeding skateboard, cooler than a pair of purple suede shoes, and more popular than twofer night at the local fast-food stop? It's the Razor Scooter--superstar of scooters, and the object of obsession for paperboys and papergirls all over the country. Whether you're jetting back and forth across campus, running errands, or rolling over to a pal's house, the Razor Scooter is built to make the ride smooth and speedy. The Razor--which supports persons up to 224 pounds (100 kilograms)--collapses down to a mere 23 by 5 by 7 inches and weighs just 6 pounds, making it a cinch to carry or pack. Its supershiny, 100 percent aluminum alloy structure is well engineered and dent resistant, and has a simple, stylish design. It features a 2.2-foot-long baseboard, which is just big enough for one foot, or two positioned sideways. The telescoping handlebar can extend up to 3 feet high, which is ideal for a person up to 5 feet, 7 inches tall. Above the rear wheel is an alloy wheel cover, which prevents splatter from puddles, plus serves as a brake when pressed down. But it's the Razor's 4-inch (100-milimeter) wheels--smooth, disclike, and made of transparent rubber--that are key to the Razor's smooth ride. The Razor is even good for riding indoors because it doesn't leave tire marks. What you're bound to love most, however, is that the wheels and handlebars (covered with thick, textured foam rubber) are color coordinated. See you on the boulevard!
Razor scooters burst onto the scene in the late 1990s and quickly became a cultural phenomenon. Their sleek design, portability, and affordability made them an instant hit among children and teens alike. Over the years, Razor has expanded its product line to include electric scooters, hoverboards, and even electric skateboards, but the basic kick scooter remains a staple of sidewalks and skate parks. Known for their durability and ease of use, Razor scooters have also become popular among adults as a convenient mode of short-distance transportation, especially in urban areas. The brand's emphasis on safety features and constant innovation has helped it maintain its appeal across multiple generations. From the classic A model to more advanced versions with suspension and larger wheels, Razor scooters continue to be a symbol of fun and freedom, enjoyed by riders of all ages.