Nylint Rock Crawlers
Durable extreme sport radio control vehicles handle vertical challenges that cross their paths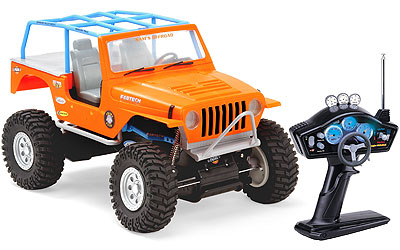 In 2004, Funrise developed extreme off-road action competition with the introduction of Nylint Rock Crawlers - a line of skilled radio control vehicles that out-crawled any other.
Rock Crawling, a family-based motor-sport, is the latest 4-wheel drive activity to gain mass appeal in the US. The custom built competition vehicles are designed specifically to crawl over extremely rough terrain at very slow speeds - sometimes less than 3 mph.
The idea of rock crawling is to go as slow as possible and take the hardest path on the trail to show off one's skill. The excitement is not the tortoise-level pace, but the vehicles' amazing ability to drive over giant boulders, climb nearly vertical grades, traverse rocky slopes sideways and generally appear to violate the laws of gravity in slow motion.
"We are very excited about the popularity surrounding the Rock Crawling community; it has become quite a phenomenon," states Arnie Rubin, president of Funrise. "Our Nylint Rock Crawlers are unique and most certainly ignite the challenge of competition for both men and boys alike."
"At Wal-mart, we look for products that are innovative and create a fun play experience for our customers," comments Jim Fife, Buyer-Vehicles, Models, Radio Control for Wal-mart. "The Nylint Rock Crawler is one of the most exciting radio control vehicles I have seen in a long time," continues Fife.
For serious rock crawling enthusiasts who want the highest level of function from their rigs, Nylint Rock Crawlers are "Built by Rock Crawlers for Rock Crawlers". The Nylint Rock Crawler assortment is available in two body styles - Jeep Wrangler Unlimited and Scorpion. Both body styles are available in 1:6th and 1:18th scale and are replicas of the real machines; they are built to be durable and to handle any vertical challenge that crosses its path.
Both vehicles, equipped with battery and charger (1:18th with 7V and 1:6th with 12V), are fully articulated with super flexible suspension ensuring ultimate control as they tackle the trail with precision. Specialized aired down tires offer maximum traction to grip the rocky terrain. The 1:6th scale also comes equipped with digital proportional steering and has the ability to shift on the fly. So hone your Rock Crawling skills and compete with your friends. Four-band radio control enables you to compete with other Rock Crawlers without signal interference.