Shell Shocker
Radio controlled alien cyber beast machine attacks with its tail and and transforms by turning its shell inside out for traction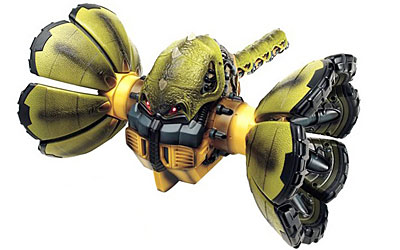 In 2005, the engineering marvel from Tyco R/C, Shell Shocker, appeared on store shelves nationwide. The new radio controlled toy had parents pondering over, and kids delighting in, its operation.
A transforming beast, Shell Shocker ushers in a new era of radio control products. Initially a ball wrapped in a protective rhino-like skin while in shield mode, the creature can turn its shell inside out while in motion to gain traction and explore, and also to reveal its scorpion-like tail to attack. Shell Shocker can easily traverse all sorts of terrain, from pavement and grass to sand and even mud. Two glowing red eyes indicate that this is something more than your normal radio controlled toy.
"This is completely different from anything else in the RC aisle, which is precisely why it's attracting so much attention," said Paul Fish of Tyco R/C. "Adults are the ones asking the questions, but it's the kids who have the answers. Part alien. Part machine. Part beast.
It's a concept that kids grasp, while the rest of us just scratch our heads and think its weird. Fortunately, kids seem to have no problem letting their imaginations run wild."
Designed for kids ages eight and up, the open-ended nature of the product is proving to be central to its play appeal. Is it alive - is it a machine - is it alien or terrestrial in nature? Kids will have to decide for themselves as they explore all transforming capabilities of Shell Shocker from a range of up to seventy feet over a series of various terrains.
Indeed, transformation is the right term for Shell Shocker; not just for the toy, but for the entire R/C category, which up until now has been known primarily for producing vehicle replicas. With the frenzy and excitement surrounding this innovative radio controlled creature, the category has been opened wide.
Shell Shocker sold for $79.99.