Remote Contol Boats - RC Boats - Radio Controlled
Boats that operate with remote control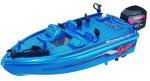 Radio Control Ranger Bass Boat: Blue (27 MHz) - Full function: forward, reverse cruising, left/right turn and stop. Designed for pools, ponds, and small lakes. Available in two frequencies for competitive racing, includes stand for display.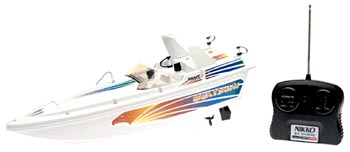 Radio Controlled Sea Hawk White Speed Boat - The full-function boat has a 16 1/2" long hull. It is designed for pools, ponds and small lakes. It can turn left and right or go reverse while it cruises through the water. Included is a display stand to mount it proudly in any room.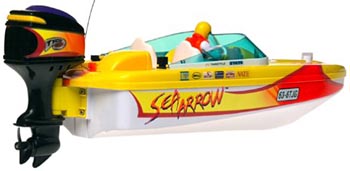 Radio Controlled 6V Yellow Sea Arrow Boat (49 MHz) - Sea arrow is a rakish outboard powered speedboat that operates on either rechargeable or "AA" Batteries. The powerful outboard motor steers and power sea arrow, and features an automatic "out-of-range" feature that circles sea arrow if you go out of range. Window package.
---
Introducing Radio Control Model Boats
The Complete Marine Radio Control Manual - A basic guide to marine radio systems and a primer which includes battery management, servos, electric motors, and all the basics essential to maintaining and operating the radio system.
Radio Control Boat Modeler Magazine - Radio Control Boat Modeler is a magazine dedicated to the radio control boat modeling enthusiast. It covers various facets of the hobby including offshore racers, ships, yachts, and sport boats. Feature articles and columns present technical and general information on building electric and gas R/C boats, modifications, modeling equipment, R/C electronics, major competition events, modeling personalities, and products. How-To articles and in-depth product evaluations are featured in every issue.