Remote Contol Boats - RC Boats - Radio Controlled
Boats that operate with remote control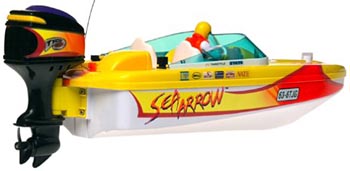 Remote-controlled (R/C) boats offer a unique and exhilarating experience that blends the joys of boating and technology. Whether zipping across a pond, navigating through mini buoys, or even racing against other R/C boats, the experience is both thrilling and engaging. The sense of control and speed as you maneuver the boat through the water is empowering, and many R/C boats come with features that replicate the realism of actual boating, such as the ability to reverse or make sharp turns. For those interested in engineering or marine technology, it provides a hands-on opportunity to understand the basics of propulsion, buoyancy, and navigation. R/C boats can also be a social activity, perfect for racing with friends or family, thus offering a combination of skill-based and social interaction that keeps the fun going.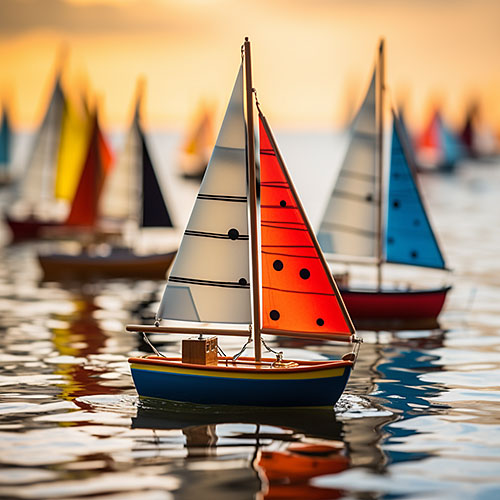 R/C sailboats bring a level of complexity that is both challenging and rewarding, blending the nuances of actual sailing with the convenience of remote control. Unlike motorized R/C boats, sailboats require a deep understanding of wind conditions, sail angles, and hydrodynamics to navigate effectively. This adds an intellectual layer to the experience, making it not just about speed but also about strategy and skill. Learning to harness the wind to maneuver your sailboat can be a steep learning curve, but once mastered, it provides a profound sense of accomplishment. The joys come not just from winning races or achieving high speeds but from mastering the art of sailing itself. Whether you're a beginner learning the ropes or an experienced sailor looking for a less cumbersome alternative to full-sized sailing, R/C sailboats offer a rich, rewarding experience that combines the best of technology and nature.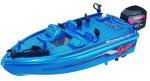 Radio Control Ranger Bass Boat: Blue (27 MHz) - Full function: forward, reverse cruising, left/right turn and stop. Designed for pools, ponds, and small lakes. Available in two frequencies for competitive racing, includes stand for display.
Radio Controlled 6V Yellow Sea Arrow Boat (49 MHz) - Sea arrow is a rakish outboard powered speedboat that operates on either rechargeable or "AA" Batteries. The powerful outboard motor steers and power sea arrow, and features an automatic "out-of-range" feature that circles sea arrow if you go out of range. Window package.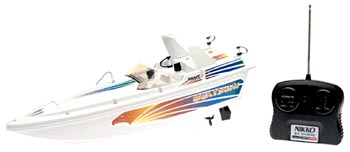 Radio Controlled Sea Hawk White Speed Boat - The full-function boat has a 16 1/2" long hull. It is designed for pools, ponds and small lakes. It can turn left and right or go reverse while it cruises through the water. Included is a display stand to mount it proudly in any room.