Rescue Heroes URV
Rescue Heros Ultimate Rescue Vehicle.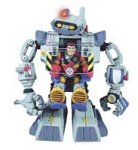 The Ultimate Rescue Vehicle with a tethered remote control that allows the robot to walk, move and extend his right arm. His other arm is pose-able and has a winch that retracts automatically. He will work with all figures, recognize Power Force tools and which figures are in cockpit. Has extendable torso and neck for tough to reach rescues. Will have lights, sounds and speech. This is one of those toys that you wish you had as a kid. Working on four C batteries (not included), the Rescue Heroes Ultimate Rescue Vehicle can do just about anything young imaginations dream up. Attached to its back with a coil cord is a remote control that allows kids to move it forward, backward, left, or right. The control also has two green buttons that create sound effects, and a red knob that maneuvers the robot's right arm, which has a clawlike hand for picking up or removing obstacles. Features on the robot itself include a winch attached at the left hand, which can be deployed by the push of a button and wound back up with the blue crank handle; a button that raises the torso of the robot to maximum body extension for those out-of-reach rescues; a button that pops the robot's head up and turns on a bright spotlight; and a flip-down platform in the back that can carry a Rescue Hero to the scene. Added cool factor: when you place a Voice Tech Rescue Hero (sold separately) in the robot's cockpit, the URV will recognize them and call them by name.
Action figure play vehicles focused on rescue operations offer a dynamic and imaginative play experience that is both fun and educational. Whether it's fire trucks with extending ladders, ambulances with working sirens, or coast guard boats with life-saving equipment, these play vehicles encourage children to become heroes in their own adventures. They can stage complex rescue missions, navigating their way through imaginary cities or treacherous waters to save the day. The interactive elements—like opening doors, spinning wheels, and liftable stretchers—add an extra layer of realism that engages young minds. Through this kind of play, kids not only exercise their creativity but also gain a deeper understanding and appreciation of the vital roles that rescue workers play in real life. Overall, these action figure play vehicles combine the excitement of fast-paced action with values of compassion and community service.