Rocket the Wonder Dog
Rocket the Wonder dog is remote controlled.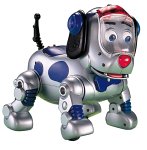 Rocket is a remote controlled pet that responds to preschoolers commands. Pet commands activation is grow with me: Mode 1 provides the younger preschooler the ability to activate Rocket via button activated remote control: Mode 2 provides the older aged preschooler the ability to program Rocket to respond to voice activated remote control.